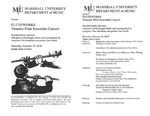 Publication Date
Winter 1-23-2010
Note(s)
Wendell Dobbs, director, flute
guest artist - Maggie Jusiel, flute, electronic wind instrument, piccolo
Tim Mainland, composer, flute
Jane Smith, piano
Julio Alves, guitar
Marshall University Flute Ensemble
Emily Crabtree, Heather Elliott, Laura Simpson, April Bennett, Lindsay Surber Sean Reed, Callie Huff, Felicia Gross, Aaron Sowards, Shey Dillon Clara Metz, Brittany White, Shelby Ard, Hillary Herold
Guest Artists
Maggie Jusiel spent her youth performing folk music, primarily Irish, on various wind instruments. She began her formal education at the University of South Florida, and completed her Bachelor's degree in music education at Concord University in 1998. During her college years, she focused on art music, primarily 20th century. As a music-ed major, she spent much time with string and wind instrument pedagogy, which gave her a broad perspective on instrumental performance. She taught in the WV public school system from 1999 to 2003, and currently teaches private lessons in woodwinds & strings. In 2002, Maggie started performing with her husband, Dr. Tim Mainland, professor of music at Concord University. With Maggie on winds and Tim on strings, they perform both acoustic music and electronic music with MIDI instruments. Their electronic alter-ego is called "Captain Lazerblast" Maggie also tunes pianos in Southern WV and parts of VA and is a member of the American Banjo Fraternity and the Piano Technicians Guild.
Dr. Jane Smith is a native of Beckley, West Virginia. She received a Bachelor of Music in Performance from West Virginia University, a Master of Music in Piano Pedagogy from the University of Colorado, and a doctorate in piano performance and literature from West Virginia University. Currently Dr. Smith is a Professor of Music at Concord University where she teaches piano, piano pedagogy, and music history. She is a member of the West Virginia Music Teachers Association and often adjudicates for Music Educators National Conference festivals. Most recently, Dr. Smith returned as a full-time music faculty after a 4 year one-half time assignment as the Associate Academic Dean.
Special thanks to Carrie Swing for serving as Dr. Dobbs' sabbatical replacement during the previous semester.
FLUTEWORKS is presented by the College of Fine Arts through the Department of Music, with the support of student activity funds. For more information about this or other music events, please call (304) 696-3117. Dr. Wendell Dobbs can be contacted at 304-696-2359 or dobbs@marshall.edu www.marshall.edu/cofa/music
Keywords
recitals, guest artist, flute, suites, sonatas
Disciplines
Arts and Humanities | Fine Arts | Music | Music Performance
Recommended Citation
Dobbs, Wendell B. Dr. and Jusiel, Maggie, "Marshall University Music Department Presents FLUTEWORKS, Thunder Flute Ensemble Concert, Wendell Dobbs, Director, with guest artist Maggie Jusiel and accompanied by, composer Tim Mainland and pianist Jane Smith" (2010). All Performances. 484.
https://mds.marshall.edu/music_perf/484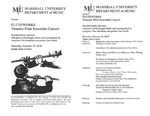 Included in
COinS