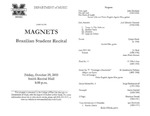 Publication Date
Fall 10-29-2010
Note(s)
Andrei Uller, Pedro Rogério Aguiar Silva, guitars
Élider DiPaula, piano
Guest Artists:
Tim Feverston, violin
Dean Pauley, cello
Biographies
Andrei Uller started to learn the guitar when he was nine years old. At age fifteen he was accepted at the Blumenau Music School of the Carlos Gomes Theatre, where he studied guitar under the guidance of Professor Rena to Mor, and Harmony with Professor Eusebio Kohler. He participated in the XVIII Music Workshop of Curitiba, further developing his instrumental skills with guitarist Mario da Silva. He was a member of the FURB Guitar Ensemble during 2001-2002, until he became a guitar teacher at the Blumenau Music School of the Carlos Gomes Theater.
In 2003 he began his undergraduate studies in music at UDESC, pursuing a License of Music Teaching Degree, which he concluded in 2008. At UDESC's Music Department, he was a member of the UDESC Guitar Ensemble and attended several music workshops not only in classical guitar, but in styles such as flamenco, jazz, and others. In 2009 he started his BFA in Guitar Performance at UDESC, where he studied with Professors Andre Moura, Luiz Mantovani and Alisson Alipio, and participated in masterclasses with guitarists Marcus Lerenna, Emannuel Rossfelder, Daniel Wolff and Gilson Antunes.
In January of 2010 participated in the 5th Santa Catarina Music Festival - FEMUSC at the Jaraguá do Sul in Brasil, where he studied with guitarists such Aldo Rodriguez, Eduardo Isaac and Mario Ulloa. Parallel to the degree in guitar performance, he is pursuing a Master Degree in Music Education at UDESC with focus on guitar pedagogy. He continues his guitar studies at Marshall in the studio of Mr. Júlio Ribeiro Alves.
Brazilian guitarist Pedro Rogério Aguiar Silva began studying guitar at the age of twelve with professor Maurizio Martins. In 2005, at age fifteen, after participating of the 27th CIVEBRA (International Summer Course of Brasilia), he became a student of Professor Maria Aparecida Alvim at the prestigious EMB (School of Music of Brasilia). Three years later he began his undergraduate studies in guitar performance under the guidance of Dr. Eduardo Meirinhos at UFG (Federal University of Goiás, Brazil).
Pedro has been a prize winner in guitar competitions such as XVII Concurso de Violão Souza Lima (17th Souza Lima Guitar Competition in 2006, São Paulo, Brasil), 1° Concurso Jovens Talentos (1st Young Talents Competition in 2008, Goiânia) and 1° FIS Competition (Winter Festival of Brasilia, 2007). An active performer, he has played recitals in several concert halls in his home country, such as the "Villa-Lobos Hall" at the Claudio Santoro National Theatre, the Levino de Alcântara Concert Hall" at the School of Music of Brasilia, the "SESC Theatre" (as a guest artist of the 2008 Concert Season of the BRAVIO-Brasilia Guitar Society-Bravio), and the SESC Cidadania Theatre in Goiânia, among others. He has participated in master classes with prominent guitarists such as Fábio Zanon; Jorge Caballero, Andreas von Wangenheim, Mario Ulloa, and many others. Currently at Marshall, he is a student of Mr. Júlio Ribeiro Alves.
Élider DiPaula, pianist and composer, was born in 1989 in Anápolis, Brazil. He has studied under the orientation of Brazilian and international teachers, such as: Carlos Costa (Brazil), Luiz Medalha (Brazil), Glacy Antunes (Brazil), Lúcia Barrenechea (Brazil), Daniel Tarquíneo (Brazil), Mauricy Martin (Brazil), Sergio Gallo (USA), Ancuza Aprodu (France), Sergei Dukatchev (Russia), Pierre Feraux (Bulgary), Estela Caldi (Argentina), Fanny Solter (Germany) and Nadezhda Eismont (Russia). In 2009 he became a student of Universidade Federal de Goiás, working towards a BA in Piano Performance under orientation of Consuela Quirezc.
In 1996, Élider began his music studies at the Escola ck Música de Anápolis and finished his piano studies with the professor Viviane Fiaia. Under the orientation of composer Laiana de Oliveira, Élider began, in the year of 2005, his studies of composition, continuing them under the orientation of Professor Estércio Marquez Cunha in the year of 2008. In the same year he was invited as one of the fifteen pianists to take part at "The First Gathering of Pianists in Paraty" (Rio de Janeiro, Brazil). In Goiânia, where he lives, he created together with other composers the project "Som de Minuto" Contemporary Music Exhibit and was one of the organizers of the "8th National Gathering of College Composers". At Marshall, he is studying under the guidance of Dr. Leslie Petteys.
Keywords
recitals, piano, guitar
Disciplines
Arts and Humanities | Fine Arts | Music | Music Performance
Recommended Citation
Marshall University, "Marshall University Music Department Presents the MAGNETS, Brazilian Student Recital" (2010). All Performances. 527.
https://mds.marshall.edu/music_perf/527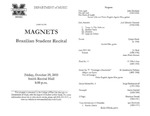 Included in
COinS