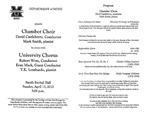 Publication Date
Spring 4-10-2010
Note(s)
Marshall University Chamber Choir
Dr. David Castleberry, conductor
Mark Smith, pianist
Kelsey Anderson, Jennifer Billups, Jeseca Bragg, Laura Campbell, Kaitlin DeSpain, Jessica Kline,
Amber Martin, Aurelia Ward, Molly White, soprano
Rachel Bartram, Leah Cook, Callie Huff, Sarah Nichols, KiraRoss, Diana Vorhees, alto
Edward Brown, Casey Edwards, T.K. Lombardo, Andrew Lowers, Michael Rose, Michael Sidoti, Adam Stephenson, Justin Wiget, tenor
Zachary Chancey, David Hines, John Hurley, Chase Likens, Sean Link, David Patrick, William Richards, Christian Rudloff, bass
Marshall University Chorus
Mr. Robert Wray, conductor
Evan Mack, guest conductor T.K. Lombardo, piano
This portion of the concert is presented as part of the Birke Fine Arts Symposium.
Langston Hughes' Dream of Freedom tells a story of many aspects of life-Prayer, Love, Death, and Perseverance. Through it all, these elements play into our constant struggle to be free; where freedom means more than just a word. It is something that needs to be nurtured in all aspects of our lives. Even more importantly these struggles tell us to respect all types of people and ideas. This struggle for freedom cannot be achieved by taking it away from others. This work expresses a need for the respect of diversity through all types of individuals in this world-making the word Freedom, through the bad and good, something to be celebrated.
All Poems Copyright © 1994 by the Estate of Langston Hughes
Katherine Bush, Brittany Cavender, Molly Gallagher, Megan Hunt, Courtney Janes, Lakedria Johnson, Kathryn Krichbaum, Amber Martin, Jordyn Rees, Rachael Siders, soprano
Rachel Bartram, April Bennett, Lindsay DiFatta, Heather Gallo, Amber Galloway, Emma Gardner,
Elizabeth Gibson, Hilary Gibson, Hillary Herold, Jackie Hysell, Deanna Meyers, Monica Sorenson, Kayla Turner, alto
Edward Brown, Travis Edwards, Daniel Ferreira, Peter Gallus, Ian Gaunt, Jordan Henry, Billy Holderby, John Horn, Chris Kimes, Jerrod Laber, T.K. Lombardo, Andrew Lowers, Michael Pitaniello, Justin Frazier, tenor
Joe Bradley, Jason Breslin, Brandon Dodrill, Danny Holderby, Noah Lamb, Christopher Leonard,
John McAlister, David Mills, Dustin Moraczewski, Scottie Mullens, Jacob Smith, Jerry Stalnaker,
Chris Tucker, Ryan Wolfe, Fred Workman, bass
The 2010 Birke Fine Arts Symposium
Reflecting deep personal interests in cultural and educational activities in the Tri-State area, and recognizing the leadership role of Marshall University, Mrs. Helen Birke and her daughter Julie established, in 1979, an endowed fund in the Marshall University Foundation creating the Birke Fine Arts Symposium.
From its earliest beginnings, the Birke Fine Arts Symposium has offered public performances, lectures, exhibitions and conferences for the university and the community it serves.
This spring, we proudly present Giving Voice: Social Justice and the Arts, the 2010 Marshall University Birke Fine Arts Symposium. A committee of faculty and students; led by Dr. Vicki Stroeher, an associate professor of music, has formulated a stimulating series of events contributing to the broad theme of social justice.
As both a reflection and critique of societal values, the arts have long been at the forefront of the issues of social justice: fairness, freedom and equality.
The 2010 Marshall University Birke Fine Arts Symposium examines the role of the arts in revealing social injustice. Featured events include lectures and performances that explore the connection between social justice and the arts in history, exhibits and performances of new works that address contemporary issues, and workshops and service projects that put social justice into action. All events are free and open to the public.
Keywords
recitals, choral music, motets, vocal ensembles, secular music, sacred music
Disciplines
Arts and Humanities | Fine Arts | Music | Music Performance
Recommended Citation
Castleberry, David; Wray, Robert; and Mack, Evan, "Marshall University Music Department Presents the Chamber Choir, David Castleberry, Conductor, Mark Smith, pianist, In concert with, University Chorus, Robert Wray, Conductor, Evan Mack, Guest Conductor, T.K. Lombardo, pianist" (2010). All Performances. 542.
https://mds.marshall.edu/music_perf/542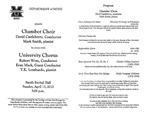 Included in
COinS