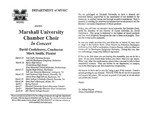 Publication Date
Winter 3-2011
Note(s)
March12 - Carl Orff's Carmina Burana, with the Huntington Symphony Orchestra
March 16 - Ripley High School, Parkersburg High School, Stout Memorial United Methodist, Parkersburg
March 17 - Capitol High School, Charleston, R.E. Lee Memorial Episcopal, Lexington, VA
March 18 - Lord Botetourt High School, Daleville, VA, James River High School, Buchanan, VA
March 19 - Saint Andrew's Catholic Church, Roanoke, VA
March 20 - Saint Paul's Episcopal, Salem, VA
April 3 - Spring Concert
April 7 - Marshall University Dean's Showcase Concert
April 9 - Marshall University Chamber Choir Invitational
April 20 - MU Choral Collage Concert
Personnel:
David Castleberry, Conductor
Mark Smith, Pianist
Kelsey Anderson, Jennifer Billups**, Laura Campbell, Kaitlin DeSpain**, Caroline Harwell, Jessica Kline, Sarah Riddle, Renee Ritenour, Janie Sinnett, Rachael Weingart, soprano
Corynn Hawkins, Hillary Herold, Arin Higginbotham, Amber Martin, Kayla Massie*, Amy Moses**, Aurelia Ward, alto
Michael Board**, Edward Brown, Zachary Chancey, Casey Edwards, Derek Ellis, T.K. Lombardo*, Andrew Lowers, Sean Price**, Michael Rose**, Kyle Wilson*, tenor
Daniel Gray*, John Hurley, Chase Likens, Sean Link**, William Murphy, David Patrick, Christian Rudloff, John Stonesifer**, bass
* Percussionist for Three Nocturnes
**Soloists for Musikalische Exequien
The Marshall University Chamber Choir is a select ensemble chosen by audition, but open to students from throughout the university. Under the direction of Dr. David Castleberry, the group has performed many times at Charleston, South Carolina's Piccolo Spoleto Festival, as well as for conferences of the American Choral Directors Association (ACDA), the West Virginia Music Educators Association (WVMEA), the American Guild of Organists (AGO), and many other professional organizations. Their hour-long WPBY-PBS special, Choral Fusion, was a recipient of the Communicator Award and the choir has been heard in concerts and tours of music from the past five centuries in more than a dozen languages. In the spring of 2012, the Chamber Choir plans to travel to Europe for a ten-day concert tour.
Dr. David Castleberry, Associate Dean and Professor of Music, has served as Director of Choral Activities since 1990. Under his direction, the Chamber Choir has established itself as one of the region's premier choral ensembles and has performed in an extraordinary range of styles and venues. Dr. Castleberry directs the Marshall University Choral Union, as well, which recently joined with the Chamber Choir and the Marshall University Chorus for a performance of Carl Orff's Carmina Burana with the Huntington Symphony Orchestra. Dr. Castleberry is a Past President of the Southern Division of the American Choral Directors Association (ACDA) and is a member of the Editorial Board of Choral Journal. He serves as director of the West Virginia Symphony Chorus and as Music Director at Saint John's Episcopal Church in Huntington, West Virginia.
The Department of Music offers NASM-accredited undergraduate programs leading to the BFA in music performance, theory/composition, and jazz studies, along with a BA program in Music Education that certifies students for teaching at the Pre-K through Adult levels. An MA in Music allows students to pursue graduate education in a variety of emphasis areas. Additionally, students may pursue a minor in music or study music as an elective activity. Renewable scholarships are available each year by audition to qualified students. Choral ensembles include the Chamber Choir, University Chorus, and Choral Union, all of which are open to students from throughout Marshall University, regardless of major. The Department of Music includes twenty-one exceptionally qualified full-time faculty members who are leaders in their respective specialties. Together with a strong group of adjunct instructors, this faculty provides individual attention, careful guidance, and extraordinary learning opportunities to nearly two hundred music majors. The department presents more than a hundred and fifty on-campus concerts during each academic year, along with festivals, tours, competitions, and other enrichment experiences.
We are privileged at Marshall University to have a talented and dedicated faculty committed to the enrichment of our students in the classroom, in applied lessons and through ensemble experiences. Each is essential to creating the artist/teacher/scholar that we are proud to call the Marshall University Department of Music graduate.
Today, you will hear our premiere choral ensemble, the Chamber Choir, under the direction of our Director of Choral Activities, Dr. David Castleberry. This group is dedicated to the highest of choral standards and they work diligently throughout the year to attain such heights. They are also a very active ensemble.
In case you might question this, just think that on March 12, they were on stage in the historic Keith Albee Theatre in downtown Huntington performing Carl Orff's masterpiece, Cannina Burana, with our other two choirs and the Huntington Symphony Orchestra. During this tour, they are performing a completely different repertoire!
If this is the first time you are bearing this ensemble, you are in for a treat: If you have heard them before, you know what you can expect. Either way, after this performance, please take a moment to talk to these remarkable students. They are leaders in our department, on campus, and in the Huntington and their hometown communities.
My thanks to them and to you for being a part of the concert. I send a special greeting to our Alumni. THANK YOU for all you do to promote and support Marshall. We are just as proud of our past, as we are about our present and future!
Enjoy!
Dr. Jeffrey Pappas
Chair, Department of Music
Acknowledgements
The Marshall University Chamber Choir wishes to acknowledge the special contributions to this concert tour of Mr. Donald Van Horn, Dean of the College of Fine Arts, Dr. Jeffrey Pappas, Chair of the Department of Music, Ms. Melanie Griffis, Director of Development, and Ms. Beverly McKinney, Administrative Staff. We wish to thank members of the Roanoke Chapter of the Marshall University Alumni Association, Stefani Brown and Access Inc., Stout Memorial United Methodist Church, Pam McClain, Director of Music, R.E. Lee Memorial Episcopal Church, Mr. Daniel Brinson, Director of Music, Saint Paul's Episcopal Church, Rose Ann Burgess, Director of Music, St. Andrew's Catholic Church, and the Rockbridge Choral Society, William McCorkle, Director, for their generous assistance. We would also like to thank Mr. John Ryder and Ripley High School, Ms. Pam McClain and Parkersburg High School, Ms. Kathleen Corbett and Capitol High School, and Mr. Joel Bremner and Lord Botetourt and James River High Schools, for the opportunities to perform for and interact with their students. Tours of this kind would be impossible without this support.
Keywords
recitals, choral music, motets, vocal ensembles, secular music, sacred music
Disciplines
Arts and Humanities | Fine Arts | Music | Music Performance
Recommended Citation
Castleberry, David and Smith, Mark, "Marshall University Music Department Presents the Marshall University Chamber Choir, In Concert, David Castleberry, Conductor, Mark Smith, Pianist" (2011). All Performances. 546.
https://mds.marshall.edu/music_perf/546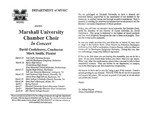 Included in
COinS