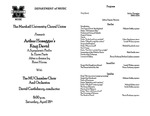 Publication Date
Spring 4-18-2009
Note(s)
David Castleberry, conductor
Jeflrey Pappas, narrator
Melanie Griffis, Leeah Weber, Burce Korkmaz, Barbara Ladner, Linda Dobbs, soprano
Adam Stephenson, Mitchell Spurlock, Mark Smith, Michael Sidoti, tenor
Notes on Arthur Honegger's King David
Composer Arthur Honegger (1892-1955) was elevated to prominence when, in 1921, the Swiss playwright Rene Morax engaged him to write incidental music for his play Le Roi David, whose intended venue was the reopening of his Theatre du Jorai in the Swiss Alps. Honegger was chosen upon the recommendation of conductor Ernest Ansermet and completed his "Symphonic Psalm in just two months. He used Morax's narrative to link the musical sections for soloist, chorus, and orchestra. The original scoring heard in this performance calls for sixteen players, used in a variety of combinations to highlight individual instrumental timbres, while the chorus is used in unison and in counterpoint. Sections are lean, colorful, and alternating dramatic and lyrical. Honegger later re-orchestrated the work for larger forces.
Associated with that group of composers called Les Six, who included his friend Darius Milhaud and Francis Poulenc, Honegger was particularly prolific during the years between World War I and World War II. His writing throughout his career is characterized by a sure master of counterpoint, vigorous use of rhythm, a keen ear for harmonic and instrumental color, and a high regard for the architectural aspects of composition. Among his best-known works are Pacific 231(1923), a depiction of a steam locomotive, his dramatic oratorio Jeanne d'Arc au bucher(1935), and A Christmas Cantata(1953), his last compositon. David Castleberry
Marshall University Choral Union
Nathanael Aylestock, Joe Barnett, April Bennett, Mary Beth Brown, Melody Cook,
Leslie Counts, Ruth Crowe, Kelly Duthie, Amber Ferguson, S. Ashley Gallaher, Maria-Tulia Gomez, Tessa Gore, Melanie Griffis, Sarah Hall, Jennifer Honaker, Gwenyth Hood. Jeanne Hubbard, John Hubbard, Mindy Kelle, Burcu Korkmaz, Edward Jeffery, Bill Jennings, Barbara Ladner, Victoria Lamont, Charlie Lewis, Margaret Ann Lewis, Marjorie McKee, Jack Meador, Maria Teresa Miller, Joan Molnar, Sarah Nichols, Sue Parker, Rachel Parlock, James Payne, Patricia Pierce, Frances Plemich, Beth Rankin, Graham Rankin, Joe Rubin, Momoko Shiki, Joseph Smith, Lou Spears, Gertrude Spurlock, Adam Stephenson, Susan Tams, Carla Rae Terry, Caroline Thomas, Joyce Wilcox, Jocelyn Williams, Paul Winters, Heather Wood
Marshall University Chamber Choir
KelseyJ Anderson, Jennifer Billups, Jeseca Bragg, Kaitlin DeSpain, Jessica Kline, Halley Kurtz, Aurelia Word, Leeah Weber, soprano
Staci Arthur, Rachel Bartram, Angelina Browning, Erin Corbitt, Brittany Kimball Briana McElfish, Rachel Parlock, alto
Edward Brown, Michael Elmore,John Galloway, Andrew Lowers, Matthew Pritt, Michael Rose, Michael Sidoti, Mitchell Spurlock, Adam Stephenson, Justin Wiget, tenor
David Hines, John Hurley, David Patrick, William Richards, ArnoldRispress Matthew Sparks, Fred Workman, bass
Orchestra
Wendell Dobbs, Callie Huff, flute
Jenna Morris, oboe/Enelish horn
Ann Marie Bingham, Robert Heath, clarinet
Kay Lawson, bassoon
Martin Saunders, Josh Richardson, trumpet
Nick Amis, horn
Michael Stroeher, trombone
Mark Smith, Justin Wiget, piano
Cynthia Puls, cello
Rebecca Harrison, bass
Ben Miller, Steve Hall, Levi Billiter, percussion
This program is presented by the College of Fine Arts through the Department of Music, with the support of student activity funds. For more information about this or other music events, please call (304) 696-3117, or view our website at www.marahall.edu/ cola/ music.
Keywords
concerts, recitals, vocal works, large ensemble
Disciplines
Arts and Humanities | Fine Arts | Music | Music Performance
Recommended Citation
Castleberry, David, "Marshall University Music Department Presents The Marshall University Choral Union, presents, Arthur Honegger's King David, A Symphonic Psalm, In Three Parts, After a drama by, Rene Moraz, with, The MU Chamber Choir and Orchestra" (2009). All Performances. 569.
https://mds.marshall.edu/music_perf/569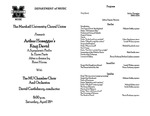 Included in
COinS