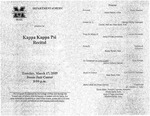 Publication Date
Winter 3-17-2009
Note(s)
Jenna Palmer, vibes
Crystal Nadi, Sean Reed, Becky Wyant, flute
Andy O'Neal, trombone
Ashley Gilbert, clarinet
Dylan Elder, Brandon Laymen, Natasha Beverly, Mary Heath, trumpet
Mindy Kelle, horn
Matthew Kelly, Adam Phillips, tuba
Brothers of Kappa Kappa Psi
Conducted by Steve Barnett, Chapter Sponsor
Fraternity Hymn Personnel:
Crystal Nadi, Sean Reed, Kayleigh Stevens, Becky Wyant (Secretary), flute
Dr. Ann Bingham, (Honorary), Ashley Gilbert (President), Amy Holliday (Sergeant of Arms), clarinet
Katie Aicher, Melanie Baldwin, Megan Rice, saxophone
Natasha Beverly (Vice President of Programs), Brandon Layman (Treasurer), Kenisha Sprouse, trumpet
Mindy Kelle, Kriss Liegey, horn
Alex Conn, Andrew O'Neal, trombone
Matthew Kelly, Christopher Vance, tuba
Deeanna Cecil, Adam Lawson, Maggie Noel (Historian), Dr. Ben Miller (Alumni), Jenna Palmer (Vice President of Membership), percussion
Program Notes:
Kappa Kappa Psi, founded on the campus of Oklahoma State University in 1919, operates primarily as a student service and leadership recognition society whose chief aim is to assist the Director of Bands in developing the leadership and enthusiasm that is required of his/her band. Our goals are to provide the band not only with organized and concentrated service activities, but to give our membership valid and wholesome experiences in organization, leadership and social contacts. The honorary nature of membership is based on our premise that "it is an honor to be selected to serve" this band, its department of music, its sponsoring institution, and the cause of band music in the nation's colleges and universities.
1.Franz Schubert's immortal "Serenade" was written in 1826. It is so familiar that it needs no analysis, nor is one necessary from any point of view. It is simply a lovely melody from first note to last, written upon the inspiration of the moment, and yet characterized by absolute perfection of finish and a grace and beauty of which one never tires. It was originally composed as an alto solo and male chorus and was subsequently rearranged for female voices only. Now we hear this in various voices such as the one heard tonight. It holds great significance to the brothers of Kappa Kappa Psi, and holds a great spot in all of our hearts.
2. Georg Philipp Telemann (March 14, 1681 - June 25, 1767) was a German Baroque music composer, born in Magdeburg. Self-taught in music, he studied law at the University of Leipzig. Often described as the most prolific composer in history (at least in terms of surviving oeuvre), he was a contemporary of Johann Sebastian Bach, Antonio Vivaldi and a lifelong friend of George Frideric Handel. While in the present day Bach is generally thought of as the greater composer, Telemann was more widely renowned for his musical abilities during his lifetime. Telemann traveled widely, absorbing various musical styles and incorporating them into his own compositions. He is known for writing concertos for unusual combinations of instruments, such as multiple violas, trumpets, oboes, or harpsichords. He held a series of important musical positions, culminating in that of music director of the five largest churches in Hamburg, from 1720 until his death in 1767.
3.Leonard Bernstein (August 25, 1918- October 14, 1990) was a world-renowned musician throughout his entire adult life. He was Music Director of the New York Philharmonic and conducted the world's major orchestras recording hundreds of these performances. His books and the televised Young People's Concerts with the New York Philharmonic established him as a leading educator. His compositions include Jeremiah, The Age of Anxiety, Kaddish, Serenade, Five Anniversaries, Mass, Chichester Psalms, Slava!, Songfest, Divertimento for Orchestra, Missa Brevis, Arias and Barcarolles, Concerto for Orchestra and A Quiet Place. Bernstein composed for the Broadway musical stage, including On the Town, Wonderful Town, Candide and the immensely popular West Side Story. In addition to the West Side Story collaboration, Mr. Bernstein worked with choreographer Jerome Robbins on three major ballets, Fancy Free, Facsimile and Dybbk. Mr. Bernstein was the recipient many honors, including, Antoinette Perry Tony Award for Distinguished Achievement in the Theater, eleven Emmy Awards, the Lifetime Achievement Grammy Award and the Kennedy Center Honors.
4.May the wings of the butterfly kiss the sun.
And find your shoulder to light on.
To bring you luck, happiness and riches.
Today, tomorrow and beyond.
--Irish Blessing
5.Love is little. Love is low.
Love will make my spirit grow.
Grow in peace, grow in light.
Love will do the thing that's right.
Carl Joachim Anderson (April 29, 1847 - May 7, 1909) was a Danish flutist, conductor and composer born in Copenhagen, son of the flutist Christian Joachim Anderson. Both as a virtuoso and as composer of flute music, he is considered one of the best of his time. He was a tough leader and teacher and demanded as such a lot from his orchestras but though that style he reached a high level. His compositions are almost exclusively for the flute. His 8 volumes of etudes for flutists of the highest level are considered his largest success. They are still used all over the world when one wants to be a top professional. His complete works consist of 67 opuses which are mainly for the flute including solo pieces and piano accompanied pieces. The Christian X's Honour March that was composed to the crown prince then, reached popularity.
6.Hark, I hear the harps eternal
Ringing on the farther shore,
As I near those swollen water
With their deep and solemn roar.
Hallelujay, hallelujah,
Hallelujay, hallelujahprais the lamb!
Hallelujay, hallelujah,
Glory to the great I AM!
And my soul, though stained with sorrow,
Fading as the light of day,
Passes swiftly o'er those water,
To the city far away.
Hallelujay, hallelujah,
Hallelujay, hallelujahprais the lamb!
Hallelujay, hallelujah,
Glory to the great I AM!
Souls have crossed before me, saintly,
To that land of perfect rest;
And I hear them singing faintly
In the mansions of the blest.
Hallelujay, hallelujah,
Hallelujay, hallelujahprais the lamb!
Hallelujay, hallelujah,
Glory to the great I AM!
7.Dr. Stephen Lawson has been a faculty member at Marshall University since 2002, teaching horn lessons, music theory and music education courses. Additionally, he has served as the interim chair of the Department of Music and directed the MU Wind Symphony. He is a member of the Kingsbury Woodwind Quintet and MU Faculty Brass Quintet. Lawson is a member of the Huntington Symphony Orchestra, and he has performed with the Ohio Valley Symphony and the West Virginia Symphony, River Cities Symphony and Seneca Chamber Orchestra on horn since arriving in WV. Dr. Lawson became an honorary brother of Kappa Kappa Psi in 2005.
8. Matthew J. Kelley (b. 1985) is a senior music education major at Marshall University. He currently holds the position of principal tubist in the Marshall University Wind Symphony and one the University's Brass Quintets. Having grown up in Huntington WV almost all of his life, Matthew plans to continue his education elsewhere for graduate school to pursue degrees in Scoring for Films and Television as well as Conducting. To this day, Matthew has and numerous arrangements and two original composition performed, the most recent being in December 2008 with the premiere of "The Battalion" being performed by the Marshall University Wind Symphony. Matthew hopes to get "The Battalion", as well as his multiple arrangements, published in the near future. Matthew is an active member in the Zeta Lambda chapter of Kappa Kappa Psi, having served as Vice-President of Membership and Education from2006-2008 and receiving the "Dave Cavender Outstanding Brother Award" in 2007 by his fellow chapter brother.
Keywords
concerts, recitals, fraternal organizations
Disciplines
Arts and Humanities | Fine Arts | Music | Music Performance
Recommended Citation
Barnett, Steve, "Marshall University Music Department Presents the Kappa Kappa Psi Recital" (2009). All Performances. 595.
https://mds.marshall.edu/music_perf/595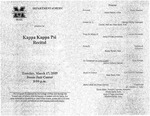 Included in
COinS