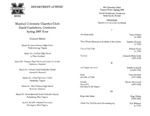 Publication Date
Spring 2009
Note(s)
David Castleberry, conductor
Mark Smith, pianist
The Marshall University Chamber Choir is a select ensemble, chosen by audition, but open to students from throughout the university. Under the direction of Dr. David Castleberry, the group has performed many times at Charleston, South Carolina's Piccolo Spoleto Festival, as well as for conferences of ACDA, WVMEA, and other professional organizations. Their hour-long PBS special, Choral Fusion, was a recipient of the Communicator Award and the choir has been heard in concerts and tours of music from the past five centuries in more than a dozen languages.
Dr. David Castleberry, Professor of Music, has served as Director of Choral Activities since 1990. Under his direction, the Chamber Choir has established itself as one of the region's premier choirs which has performed music spanning many style periods and cultures. The ensemble tours frequently and has been heard widely on recordings and in broadcasts. This year, their repertoire focuses primarily on twentieth-century works, but includes selections from the past four centuries. With the Marshall University Chorus and Choral Union, the combined choirs performed Schubert's Mass in E-flat last fall and will present Arthur Honegger's drama King David in April. Dr. Castleberry is President of the Southern Division of the American Choral Directors Association and has performed and written extensively on many topics related to choral music literature and techniques.
Chamber Choir Personnel:
Kelsey Anderson, Jennifer Billups, Jeseca Bragg, Kaitlin DeSpain, Jessica Kline, Halley Kurtz, Aurelia Ward, Leeah Weber, soprano
Staci Arthur, Rachel Bartram, Angelina Browning, Erin Corbitt, Brittany Kimball, Briana McElfish, Rachel Parlock, alto
Edward Brown, Michael Elmore, John Galloway, Andrew Lowers, Matthew Pritt, Michael Rose, Michael Sidoti, Mitchell Spurlock, Adam Stephenson, Justin Wiget, tenor
David Hines, John Hurley, David Patrick, William Richards, Arnold Rispress, Matthew Sparks, Fred Workman, bass
This tour is presented by the College of Fine Arts through the Department of Music, with the support of student activity funds. For more information about this or other music events, please call (304) 696- 3117, or view our website at www.marshall.edu/ co fa/ music.
The Marshall University Chamber Choir wishes to acknowledge the special contributions to this concert tour by Dean Donald Van Horn of the College of Fine Arts, Dr. Jeffrey Pappas, Chair of the Department of Music, Mr. Robert Wray, Assistant Professor of Choral Music Education, Ms. Beverly McKinney and Ms. Ruby Dean, Administrative Staff, and Dr. Barbara Ladner, for program layout.
Keywords
concerts, recitals, choral music, sacred, secular
Disciplines
Arts and Humanities | Fine Arts | Music | Music Performance
Recommended Citation
Castleberry, David, "Marshall University Music Department Presents the Marshall University Chamber Choir, Concert Tour, Spring 2009, David Castleberry, Conductor" (2009). All Performances. 609.
https://mds.marshall.edu/music_perf/609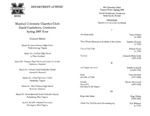 Included in
COinS