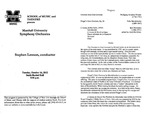 Publication Date
Fall 10-16-2012
Note(s)
*SheyDillon, Allison Kessinger, Aaron Sowards, flute/piccolo
* Laura Mullens, Chris McDerment, oboe
* Ryan Striker, Rebecca Adkins, bass, Joshua Blair, clarinet
* Christopher MeNeese, Michelle McKenzie, bassoon
* William Holderby, Nicholas Bragg, Kristen Bobuk, Danielle Ocheltree, horn
* Briana Blankenship, *Ben Stem, *Daniel Ricks, trumpet
*Andrew O'Neal, Brian Crawford, Jared Layman, trombone
*Guy Parker, tuba
* Andrew Tilley, Anna Marie Firth, Evan Grover, percussion
* Jiao Li, piano
*+Angela Scoulos, Molly Page, Olivia Hay Marianne Tessone, Anyango Yarbo-Davenport, violin I
*Nathaniel Ramsey, Michael Wilcoxon, Allison Bias, Kelcey Perkins, Sam Bauserman, violin II
* Timothy Feverston, Matthew Turner, Fabbio Sassin, Andrew Swing, Jarne McCumbee, Lucia Soltis, Matthew McCrobie, Kristina Dixon, viloa
* Ezgi Karakus, Dean Pauley, Ron Thompson, Jamie Dzierzak, Lena Williams, David Hay, Tawny Tilley, cello
* Ryan Morgan Jordan Trent Colin Milam William Arnold, bass
*Denotes Principal
+ Concertmaster
The Overture to Don Giovanni by Mozart serves as an introduction to the opera of the same name. It was premiered in 1787, and is a comic opera, though with dramatic sections and a supernatural ending. Don Giovanni continues as one of the most popular operas in modem times. The two-act opera relates the mythic tale of Don Juan, an unrepentant womanizer, Leporello, his wing man, the Commendatore, and his daughter, Donna Anna. Don Juan seduces Donna Anna, and kills the Commendatore, while Leporello frets over his unseemly position. In the end, a statue of the Commendatore comes to life and drags the rake to hell, in a very dramatic moment.
This overture does not relate "songs" that one will hear later, as in a musical, but sets a tone that is both very dramatic and light.
Fingal's Cave Overture by Mendelssohn is a concert overture composed in 1830. It is not an introductory piece, but stands alone as a concert offering. The piece is somewhat programmatic. Fingal's Cave is a sea cave on the uninhabited island of Staffa in the Inner Hebrides of Scotland. It is formed by hexagonally jointed basalt columns and was a ''tourist" destination in the time of Mendelssohn. While touring Scotland, he took a sailing voyage. An unexpected storm blew up causing sea sickness. In a letter to his sister, Fanny, Mendelssohn claimed that the first theme came to him during this voyage and illustrates the storminess ofthe waters around Fingal's Cave.
L 'oiseau de Feu or The Firebird, by Stravinsky was written in 1910 for Sergei Diagalev's Ballet Russe in Paris. This suite was prepared in 1919 by the composer with Clark McAlister for a standard orchestration. The ballet's story presents Prince Ivan, who enters the exotic world of the immortal king,
Kastchei. Ivan captures the Firebird and gets the Firebird to agree to help him.
Ivan tries to bargain with Kastchei to marry one of his 13 princesses. An argument ensues, and Kastchei sends his evil creatures to chase Ivan, the Firebird enchants the creatures into a frenzied dance (Danse infernale), after which all fall asleep. The Firebird reveals to Ivan that Kastchei's soul is held in a giant egg. Ivan destroys the egg and Kastchei and his creatures disappear.
The "real" beings awake and celebrate their victory. This suite has become a standard of modem orchestra repertoire.
Disciplines
Arts and Humanities | Music | Music Performance
Recommended Citation
Lawson, Stephen, "Marshall Uinversity School of Music and Theatre presents the Marshall University Symphony Orchestra" (2012). All Performances. 61.
https://mds.marshall.edu/music_perf/61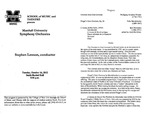 Included in
COinS