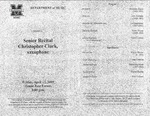 Publication Date
Spring 4-17-2009
Note(s)
Personnel:
Christopher Clark, tenor saxophone
Andrew Winger, guitar
James Lykens, bass
Johnathan Wright, drums
Also Featuring:
Lucas Miller, baritone saxophone
Austin Seybert, trombone
This recital is presented in partial fulfillment of the requirements of a Bachelor of Fine Arts degree in Jazz Studies. Mr. Clark is a student in the studio of Dr. Edwin Bingham.
Program Notes
Invitation
Bronislaw Kaper was born in Warsaw, Poland on February 5, 1902. He studied at the Warsaw Conservatory of Music in Berlin. Kaper worked as a composer in several European countries but immigrated to the United States in 1935. In the United States, Kaper worked as a conductor, composer, and arranger for film score orchestras. He collaborated with Walter Jurmann, Gus Kahn, and, most notably, lyricist Ned Washington. Kaper composed famous songs for films including "Cosi Cosa" for A Night at the Opera, "All God's Chillun got Rhythm: for A Day at the Races, and "On Green Dolphn Street" for the 1947 film Green Dolphin Street. Kaper composed music for the television series, The F.B.I., and he also adapted a Chopin score for the Broadway musical, Polonaise. He also collaborated with Bob Russell and Heitor Villa-Lobos.
"Invitation," composed for the 1952 film bearing the same title, is a popular composition of Kaper"s among jazz musicians. It has been performed by Joe Henderson, John Coltrane, the Jaco Pastorius Big Band, Art Blakey and the Jazz Messengers, Dexter Gordon, Dinah Washington, Stan Getz, Woody Shaw, Bill Evans, and many others. Its sequential melody, though chromatic at times, is structured in such a way that it is accessible to the listener; yet the harmony has interesting aspects that are intriguing to the improvising musician.
Lyrics
You and your smile hold a strange invitation,
Somehow it seems we've shared out dreams, but where?
Time after time in a room full of strangers,
Out of the blue suddenly you are there.
Where I go you're the glow of temptation,
Glancing my way in the gray of the dawn.
And always your eyes smile that strange invitation,
Then you are gone, where, oh, where have you gone?
How long must I stay in a world if illusion:
Be where you are, so near yet so far apart,
Hoping you'll say with a warm invitation,
"Where have you been: Darling come in, come into my heart."
Recorda Me (Remember Me)
Joe Henderson was born in Lima, Ohio on April 24, 1937 into a family of nine brothers and five sisters. Joe became enamored with his brother's jazz record collection at an early age and began playing the saxophone. Henderson credited his early influences as being Illinois Jacquet, Coleman Hawkins, Wardell Gray, and most importantly, Lester Young. With the help of his brother, Henderson began transcribing Lester Young's solos as early as age nine. As Henderson became older, his taste for jazz expanded into the realms of Stan Getz, Herbie Steward, Charlie Parker, Woody Herman, and Duke Ellington. He also began listening to twentieth century art composers like Bartok, Hindemith, and Stravinsky.
Upon graduating high school, Henderson attended Kentucky State College for a year and then transferred to Wayne University in Detroit where he met Donald Byrd, High Lawson, and Yusef Lateef. Apart from his studies on several instruments at Wayne, Henderson also studies saxophone and music theory with saxophone great Larry Teal at the Teal School of Music.
Henderson mover to New York City at age twenty-five, and he immersed himself in the jazz scene with the help of his friends Kenny Dorham and Junior Cook. Thanks to these local connections, Henderson was able to sit in with tenor saxophone great Dexter Gordon, who was greatly impressed by his playing. Through all this attention Henderson signed to Blue Note Records where he make his first recording, Page One. He recorded several albums on the Blue Note Label under his own name and also recorded with other jazz greats like McCoy Tyner, Horace Silver, Grant Green, Lee Morgan, and others for that label. He later recorded for the Milestone label, on which the bulk of his well-known works were released. His final recording contract was with Verve. He recorded several themed albums for Verve that include Double Rainbow: the Music of Antonio Carlos Jobim, So Near So Far; Musing for Miles [Davis], and Porgy and Bess. After decades of smoking, Henderson dies in 2001 of lung cancer at the age of sixty-four.
In addition to playing great deal at an early age, Henderson also composed. At the age of fifteen, he composed his first tune, "Recorda Me," which he later recorded on his first album for Blue Note Records, 1963's Page One. Around this time, the Bossa Nova had become popular, and Henderson amended the tune to incorporate the bossa's rhythmic attributes. Henderson made several recordings of this work throughout his career that include a live recording with trumpeter Woody Shaw on the 1070 Milestone recording, Live at the Lighthouse, and a recording under McCoy Tyner's name, 1991's New York Reunion. This tune has also been recorded by other artists including tenor saxophone titan Michael Brecker's fusion group, Steps Ahead.
Stella by Starlight
Victor Young was born on August 8, 1900 in Chicago, Illinois. At the age of ten, Young studied violin at the Warsaw Conservatory of Music and eventually joined the Warsaw Philharmonic. He recorded with his own orchestra from 1931 to 1954, which provided the background for Judy Garland's performance of "Over the Rainbow" for the film, The Wizard of Oz. He also composed the score for Going My Way, which won the Academy Award for best picture in 1944. His prolific career as a film score composer includes work for films including Wells Fargo 1937), Breaking the Ice 1938), Arizona (1940), The Uninvited (1944), Samson and Delilah (1949), Three coins in the Fountain (1954), and many others. In 1959, Young's score for Around the World in Eighty Days won an Academy Award for best score posthumous in November of 1956.
Young's popular songs written with lyricist Ned Washington have gained acceptance as jazz standards. "Stella by Starlight" is a composition of Young's from the film, The Uninvited. It's lyrical, scalar, and flowing melody is attractive to listeners, and its harmony provides an interesting array of challenges to jazz improvisers. This work is so standard among jazz circles that one could walk into a jam session on the other side of the globe and perform it with musicians he or she has just met.
Lyrics
The song a robin sings,
Through years of endless springs,
The murmur of a brook at evening tides.
That ripples through a nook where two lovers hid.
That symphonic theme,
That's Stella by starlight,
And not a dream.
My heat and I agree,
She's everything on this earth to me.
'Round Midnight
Thelonious Sphere Monk Jr. was born into a poor and laboring family on October 10, 1917 in Rocky Mount, North Carolina. When Monk was five, his mother took her children and moved to New York City, leaving behind her husband, Thelonious Sr. Monk's mother decided it best for his sister, Marion, to take piano lessons and for young Thelonious to pursue the violin. Disinterested in the violin, and later the trumpet, Monk observed his sister's piano lessons and began learning to play by ear. He later began taking lessons. In junior high school, Monk's grades varied in merit rather erratically aside from the courses that he studied in music. In high school, this issue was exacerbated by Monk's poor attendance, and he eventually dropped out of school to concentrate on music.
In the late 1930s, Monk formed his first quartet and had little interest in performing in the big band setting that was so popular during that era. Monk often composed in his apartment where it is thought he composed his first ballad, "Grand Finale" around 1941, eventually renamed, "'Round Midnight." In 1940, Monk became the house pianist at Minton's Playhouse, a club in Harlem that is credited as being the birthplace of bebop. It was at Minton's that Monk met and befriended young pianist Bud Powell. Powell made the first recording of "'Round Midnight" with trumpeter Cootie Williams, the famous plunder player from the Duke Ellington orchestra, for the Hit label in 1941. Despite having stolen the rights to Monk's work, Williams and Monk later came to a consensus after Williams gave Monk $300 as an advance to record and publish the work in 1944 in exchange for having partial writing credit. Though the Hit label recording listed Monk and Williams as being in collaboration, it is rumored that Williams received all of the royalties and left Monk with nothing. Monk's first recording of "'Round Midnight" was made during his time with the Dizzy Gillespie Big Band, though this 1946 live session only yielded a partial recording of the tune. Monk made the first recording of hauntingly beautiful ballad under his own name in November of 1947 for the Blue Note label. "'Round Midnight" has become one of the most recognized and performed ballads in jazz after Monk's 1947 recording. Its mysterious, haunting, and captivating melody coupled with its complex harmonic progression have mad this work one of the most attractive ballads to jazz players and listeners alike.
The Works of John Coltrane
John William Coltrane was born in rural Hamlet, North Carolina in 1926. Shortly after his birth, his family relocated to High Point, NC, where he spent his childhood and adolescent years. During his senior year of high school, his family moved to Philadelphia without him in search of better economic opportunities and less racially discriminatory environment. Coltrane followed after graduating at the age of sixteen in 1943. Coltrane began playing music on the alto horn, switched to clarinet, and eventually settled on saxophone. He began taking formal saxophone lessons and music theory courses in 1944 from Mike Guerra, who also taught Gerry Mulligan and Stan Getz, at the Ornstein School of Music.
Coltrane entered the United State Navy just a World War II was coming to a close. After completing his training, he was sent to Oahu, Hawaii where he worked in one of the navy bands playing alto saxophone. After being discharged in 1946, he returned to Philadelphia. Coltrane became immersed in the jazz scene and came under the influence of the bebop music, pioneered by players like Dizzy Gillespie and Charlie Parker. In the early 1950s, he joined the Dizzy Gillespie Big Band and one of Gillespie's small groups.
Around 1955, Coltrane began playing with Miles Davis; though because of his drug addiction, he eventually lost the job in 1957. He also played with Thelonious Monk during this period. He released several albums under the Prestige label and released Blue Train on the Blue Note Records, featuring tunes like "Moment's Notice" and "Lazy Bird." "Moment's Notice" is now one of Coltrane's most played and recognized works from his "change running" period. Coltrane employs changing harmonies under repeated tones in the melody, which creates an unusual string of ii V's that rapidly shift key centers. These harmonic explorations foreshadowed some of Coltrane's pioneering works to come.
After working as a leader and with Monk, Coltrane was coerced into rejoining Davis' group. Davis one said, "The group I had with Coltrane made me and him a legend. That group really put me on the map in the musical world…a whole lot of famous people were coming every night to hear us play. People like Frank Sinatra…"
In 1957, Coltrane began working on new harmonic formulae that employed rapidly changing key centers shifting by major thirds, keys that were seemingly unrelated when compared to the usual cyclical or whole-step oriented modulations associated with the jazz compositions and standard tunes of the period. Though Giant Steps was not recorded and released until 1959, several musicians and family members recall Coltrane practicing this type of harmonic cycle as early as 1957. On the original recording for Atlantic Records under Coltrane's leadership, it is clear that he had spent numerous hours practicing improvisation over this type of sequence, certainly outplaying the session's pianist, Tommy Flannigan, who is lost in the rather daunting progression throughout most of his solo. Numerous books and treatises have been written concerning the harmonic sequences known as "Coltrane changes" by jazz musicians. "Giant Steps" has become a "test piece" for maturing improvisers, and the work is seen as almost a rite of passage for developing jazz musicians due to its complex chord progression.
In the early 1960s, Coltrane began to explore modal music, most likely due to his work with Miles Davis on the most famous of modal albums, Davis" Kind of Blue. In 1964, his quartet with pianist McCoy Tyner, bassist Jimmy Garrison, and drummer Elvin Jones recorded and released "Crescent" on a album bearing the same title. This work begins with a rubato melody that has an almost searching quality, played over droned Phrygian chords that change at the soloist's discretion. This develops into a slow, ballad like character as the melody builds tension and eventually culminates into a double-time solo section.
In the same year Crescent was recorded and released, Coltrane's quartet also recorded and released A Love Supreme, a four-movement suite that alludes to a pilgrim's journey in search of spiritual enlightenment. This work was inspired by Coltrane's spiritual background, his exploration of the music of different cultures, and his successful struggle to overcome his heroin addiction. A central idea in this work is composing and improvising using a single tone as a tonal center, rather than a particular scale associated with that tone. "Resolution" is the second portion of this suite. Its modal structure and melody are clearly influenced by the sounds of the East, and it affords the soloist the opportunity to explore polytonal concepts and the idea of using a single note as a tonal center rather than a scale or mode.
The Works of Wayne Shorter
Wayne Shorter was born in Newark, New Jersey on August 25, 1933 into a lower-class family living in the city's racially and culturally eclectic Ironbound District. As a child, Shorter had a vivid imagination that manifested itself in what biographer Michelle Mercer describes a "an almost absurd magnitude." His family was religious, and they attended the Mount Zion Baptist Church. The church's choir included a teenage vocalist who later became famous for her jazz singing, Sarah Vaughan, who was nine years older than Shorter. Despite Vaughan's presence and his religious family, Wayne was disinterested in sacred music, and he claimed to feel "suffocated" by the "negative and gloom" atmosphere during the choir's rather boisterous performances. In his home, Shorter was exposed to popular and country music by his father, but he was more interested in the soundtracks to films he saw at the local theater because of the way the music affected the scenes.
Shorter's parents made a point of teaching him to question social norms and to be self-sufficient. This idea of "going solo," as he put it, inspired him to pursue an art career. Wayne's talent won him several awards. His grammar school urged him to apply to Newark's Arts High School, and he was accepted. The odd personality that caused him to become a pariah in grammar school was welcomed in the art school, and his creativity grew in this nurturing environment.
Shorter switched to a double major in art and music during his senior year. One of his teachers, Achilles D'Amico, told the class that music was going to go in three directions, and played a recording to represent each. One was Stravinsky's Rite of Spring, one was of Charlie Parker, and the other was "Xtabay" by Yma Sumac. It was then that Shorter knew he wanted to play jazz and switched to tenor saxophone.
Shorter's taste for bebop clashed with the working musicians of Newark, as bebop was not gaining radio play or acceptance by society because people could not dance to it. This did not discourage him. He went into New York to Lloyd's Manor to see Sonny Stitt play and was invited to sit in. Shorter accepted despite only knowing how to play in three keys, and when Stitt called a tune in an unfamiliar key, Shorter played anyway. After the performance, Stitt was impressed and asked Shorter to tour with him, but he declined in order to finish high school.
Shorter began attending NYU in 1952. He graduated in 1956 with a degree in music education but had no aspirations of becoming a public school music teacher. He made his first professional recording on June 8, 1956 with a pianist named Johnny Eaton, and a few of his original compositions were recorded for this session. Shorter was soon drafted into the army. During his time in the army, he met pianist Cedar Walton, and the two shared and exchanged musical concepts.
Shorter performed with Maynard Ferguson's group at the Toronto Jazz Festival in the summer of 1959. After hearing Shorter play, Lee Morgan, Art Blakey's trumpeter, suggested to his bandleader that they enlist Shorter to play tenor with the Jazz Messengers. Shorter accepted the offer, and he composed for and performed with the group until he left to play with Miles Davis in 1965. He also and recorded and performed with bands of his own in the early 1960s.
In 1963, Shorter recorded Juju, his second album for Blue Note Records, which contained "Yes and No," among some of his other more famous tunes from that period. This composition follows the standard AABA form of many jazz Works, but each section has an unusual length. Rather than the typical eight-measure sections, the A sections are fourteen measures, and the bridge is sixteen measures. Though this tune is popularly known as "Yes and No," the original liner for Juju shows the title as "Yes or No." In 1965 Shorter recorded "Speak No Evil" on a record by that same title. The title is a reflection of Shorter's Buddhist beliefs, and he says of the work, "This piece is about caution, be careful about what you say: What comes out of your mouth can cause some horrendous effects or beautiful ones." This composition is a prime example of the entire albums subdued and understated character.
After recording eleven albums under his own name for Blue Note and working for several years with Miles Davis, Shorter founded the fusion group Weather Report with keyboardist Joe Zawinul. After the demise of this group in the 1980s, Shorter began working again with his own groups. His current quartet with pianist Danilo Perez, bassist John Patitucci, and drummer Brian Brade is among the most innovative groups on the forefront of modern jazz today.
Disciplines
Arts and Humanities | Fine Arts | Music | Music Performance
Recommended Citation
Clark, Christopher, "Marshall University Music Department Presents a Senior Recital, Christopher Clark, saxophone" (2009). All Performances. 627.
https://mds.marshall.edu/music_perf/627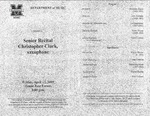 Included in
COinS