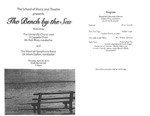 Publication Date
Spring 4-24-2015
Note(s)
Katelyn Beaver, soprano
Charles DeLeo, baritone
Brooke Fisher, alto
Richard Alexander, Jeremy Boggs, Brandon Eplin, percussionists
Brooke Fisher, Jarohn Grandstaff, Rebecca Mays, Kaitlyn Ellis, soloist
University Chorus Men's Section
World Premier Commissioned by Adam Dalton and Susan Dalton in memory of their mother
Marshall University Chorus
Robert Wray, conductor
Jacob Smith, pianist
Katelyn Beaver, Lillie Bodie, Antonia Brown, Kara Campbell, Emily Cloer, Hazel Cox, Destiny DiGiovanni, Rachel Hagley, Autumn Haitcock, Olivia Hughes, Megan Jarrett, Kayla McDowell, Chanisha Mendenhall, Monica Stanwick, Heather Taylor, Ida Ward, Pamela Young, soprano
Cassey Adkins, Melissa Barlip, Anna Blakeman, Kayla Childers, Courtney Clayton, Jennifer Day, Brooke fiosher, Makala Gilkerson, Jaime Graham, Corynn Hawkins, Cierra Hawver, Olivia Meyers, Kayla Robison, alto
Michael Bare, Justin Hesson, Jacob Smith, Jimmy Stamm, Tré Staples, tenor
Adam Burroway, Charlie DeLeo, Zach Falther, Sam, Fischel, Conor Lannan, Ryan Wolfe, bass
Marshall A Cappella Choirs
Robert Wray, conductor
Women performing Royals:
Lillie Bodie, Christa Navy, soprano I
Megan Jarrett, Sasha Tackett, soprano II
Anna Maria Firth, Katie Johnson, Corynn Hawkins, alto I
Katlin Ellis, Jamia Shook, Alto II
Women performing Ghost
Katelyn Beaver, Maggie Cobb, soprano I
Autumn Haithcock, Rebekah May, Jessica Starkey, soprano II
Brooke Fisher, Megan Osborne, Kylie Robbins, alto I
Christy Carson, Josie fisher, alto II
Men
Justin Ferguson, Jarohn Grandstaff, tenor I
Jacob Smith, Seth Thomas tenor II
Anthony Johnson, Drew Mullins, Jimmy Stamm, bass I
Daniel Parlock, Albert Smith, Jonathan Sowards, bass II
Marshall University Symphonic Band
Adam Dalton, conductor
Aaron Sowards, piccolo
Megan Lewis, Shelby Ard, Andrea Hensley, flute
Savannah Johnson, Jessica Crago, oboe
Rebekah Ricks, Eb clarinet
Philip Runyan, Connor Lannan, Austin Caldwell, Ida Ward, Anna Blakeman, Dominick Agazzi, clarinet
Mary Milam, bass clarinet
Katrina Elliott, contrabass clarinet
Joshua Gribben, bassoon
Jodi Bapst, Christina Stradwick, Jonathan Goff, also saxophone
Tyler James, tenor saxophone
Melissa Barlip, baritone saxophone
Kevin Eason, Joshua Matthews, Colten Brumfield, Andrea Withee, Josie Fisher, Christy Carson, Adam Burroway, trumpet
Bobby May, Chris Cremeans, Matt Darnold, Kelly Hennessy, Nathaniel Rainey, horn
Alex Cardwell, Brian Crawford, Josh DeHaven, Tyler, trombone
Davis, bass trombone
Ethan Bartlett, Lamont Thomas, Cameron Berry, baritone
Ty Bender, Hunter Helm, tuba
Jeremy Boggs, Jake Hunt, Jake Davis, Ethan Gibson, Montana Gatens, Richard alexander, Brandon Eplin, James Redd, percussion
Elizabeth Hence, piano
A note about the commission
On May 19, 2014 I lost my best friend, mentor, cheerleader , supporter, and mother. Jody Fitzgerald Dalton Elliott was diagnosed with breast cancer in August of 2009 and told she had about three months left. She fought for four and a half years and worked as an elementary school teacher all the way up until April of 2014.
My mom was a huge supporter of me and my music career. She came to every one of my performances. Even if she was sick, she would watch them online.
After she died I couldn't think of a better way to honor her than to have a piece of music commissioned. I immediately thought of Julie Giroux because I love her music and the passion she brings to them. At one point in the process she asked me where was my mom's favorite place in the world. I told her my mom loved the ocean. She loved being near the water and she was fortunate to live at a beach for the last years of her life. When she was sick and feeling down she would go to the beach and just sit and stare at the waves. It was her time to be with her thoughts and pray to God. Thus the title of the piece, " The Bench by the Sea."
Julie writes: "To sit on a bench by the sea is to be at one with the wind, the waves and the world. It is a good place to watch people, smell the ocean air and wonder at the horizon and the perfect place to watch the sunrise and sunset. It is a place to think, a place to rest and a place to question. It is a good place to come to terms with life, but mostly it is a place to just be.
Jody loved to watch the water and loved concert band music. Now she has her own piece and will always have a bench by the sea"
This has been an incredible experience working with Julie and preparing this piece with the symphonic band. Thank you to Julie for creating something so beautiful and to the ensemble for bringing it to life.
Tonight, the bench on stage is for my mom to sit and enjoy the concert. - Adam Dalton
Disciplines
Arts and Humanities | Fine Arts | Music | Music Performance
Recommended Citation
Wray, Robert and Dalton, Adam, "Marshall University Music Department Presents The Bench by the Sea, featuring, The University Chorus and A Cappela Choir, Mr. Rob Wray, conductor, and, The Marshall Symphonic Band, Dr. Adam Dalton, conductor" (2015). All Performances. 694.
https://mds.marshall.edu/music_perf/694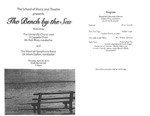 Included in
COinS