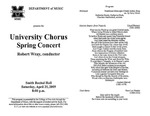 Publication Date
Spring 4-25-2009
Note(s)
Katherine Bandy, Katherine Bush, Chanisha Mendenhall, soloists
Personnel:
Mr. Robert Wray, conductor
Justin Wiget, pianist
Summer Adkins, Daina Berry, Natasha Beverly, Katherine Bush, Erin Collins, Amanda Davis, Molly Gallagher, Ashley Gilbert, Brittany Kimbal, Amber Martin, Chanisha Mendenhall, Maggie Noel, Jasmine Norwood, Rachel Siders, Kayla Turner, Sara Vorac, Diana Vorhees, Aurelia Ward, soprano
Katherine Bandy, Hannah Bird, Caren Blake, Christa Blake, Deeanna Cecil, Megan Collier, Lindsay DiFatta, Samantha Fox, Amber Galloway, Elizabeth M. Gibson, Kathryn Greer, Kristen Hainkel, Amy Holliday, Jessica Kline, Julie Miller, Jenna Palmer, Brittany White, alto
Phillip Bailey, Cody Bartrug, James Christlieb, Tim Cline, Casey Edwards, Daniel Ferreira, Ian Ferrell, Peter Gallus, Billy Holderby, John Horn, Jerrod Laber, Andrew Lowers, John McAlister, Justin Wiget, tenor
Jason Arnoldt, Joe Bradley, Jason Breslin, Christian Carlsson, Danny Holderby, Matt Kelly, Christopher Leonard, T.K. Lombardo, Dustin Moraczewski, Danilo Moraes, Jerry Stalnaker, Chris Tucker, bass
Alma Mater
Marshall gracious Alma Mater,
We thy name revere;
May each noble son and daughter
Cherish thine honor dear.
May thy lamp be ever bright,
Guiding us to truth and light;
As a beacon o'er dark water
This is for thee our prayer.
May the years be kind to Marshall;
May she grow in fame;
May her children fail her never,
True to her beacon flame.
May her spirit brave and strong
Honor right and conquer wrong;
Disciplines
Arts and Humanities | Fine Arts | Music | Music Performance
Recommended Citation
Wray, Robert, "Marshall University Music Department Presents the University Chorus, Spring Concert, Robert Wray, conductor" (2009). All Performances. 750.
https://mds.marshall.edu/music_perf/750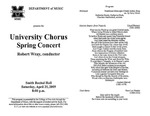 Included in
COinS