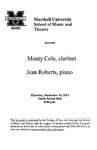 Publication Date
Fall 9-20-2012
Note(s)
Monty Cole joined the faculty at Mercer University in the fall of 2002, where he teaches clarinet and saxophone, and is Director of Jazz Studies. Before coming
to Mercer he served on the faculties of Minot State University, and at Humboldt State University. A versatile performer, he appears throughout the country as a clinician and performing artist in both classical and jazz areas. A California native, he completed his B.A. in Music from Humboldt State University. He later earned his M.M degree from the University of Kentucky and in 1998 completed his Doctorate of Musical Arts degree from the Cincinnati Conservatory. His teachers include Robert Flum, Edward Harris, Ronald Monsen, Gordon Cole, Rick Van Matre and Ronald DeKant. His doctoral thesis elucidated the life and music of jazz saxophonist Rahsaan Roland Kirk.
As a clarinet artist, Cole has worked with numerous orchestras including the Richmond (Indiana) symphony, the Lexington Philharmonic, the St. Martin Chamber Orchestra (Cincinnati), the Humboldt Symphony, the Minot Symphony, the Macon Symphony, and the Ocmulgee Symphony. As a chamber musician, he has toured throughout North and Central America. As a saxophonist, he has toured with the Guy Lombardo Big Band, performed with a number of jazz artists including Frank Mantooth, Vince DiMartino,. Brad Goode, Pat Harbison, Ed Soph, Randy Porter, Lany Engstrom, Dick Titterington, Joe Henderson, and many others. Recent performances include the internationally syndicated Oprah Winfrey Show with Josh Groban and in concert with Barry Manilow, Kristin Chenoweth, and Sarah Mclachlan. His recent jazz solo CD Mile to the East was released in 2007. View from a five-gallon aquarium, featuring Dr. Cole on clarinet was released in 2008.
Jean Roberts currently teaches theory at Stephen F. Austin State University in Nacogdoches, Texas and she also serves as the organist for Christ Episcopal Church and School. Following degrees from the Eastman School of Music and the Yale University School of Music, Jean earned a Doctor of Musical Arts degree from the University of Texas at Austin. The Australian Broadcasting Corporation has broadcast on National Public Radio and her performances. Notable performances include appearances with the Stirling String Quartet and the West Australian Trio in Perth, Australia. Along with her husband John, she has performed several two-piano concertos with the Western Australian Symphony Orchestra, the Penang Festival Orchestra in Malaysia, the Charlotte Philharmonic, the Charlotte Repertory Orchestra, and the Salisbury Symphony Orchestra. They have performed as a two piano team in Japan, Italy, Australia and most recently in North Carolina and Texas. Other recent performances include Chamber Music in the Pines Festival and a recital with Saxophonist and Clarinetist Montgomery Cole. She has been on the faculty at the Red Lodge Music Festival since 1994.
Note
DUE TO COPYRIGHT AND LICENSING RESTRICTIONS A RECORDING OF THIS PERFORMANCE IS NOT AVAILABLE.
Disciplines
Arts and Humanities | Fine Arts | Music | Music Performance
Recommended Citation
Marshall University; Cole, Monty; and Roberts, Jean, "Marshall University Music Department Presents Monty Cole, clarinet, Jean Roberts, piano" (2012). All Performances. 92.
https://mds.marshall.edu/music_perf/92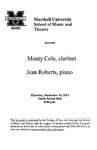 Included in
COinS