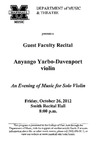 Publication Date
Fall 10-26-2012
Note(s)
Violinist and composer Eugene Ysaÿe composed his cycle of Six Sonatas for violin solo op.27 in 1923. Each work was inspired by one of the time's great violin virtuosos and their characteristic playing styles. The first sonata is dedicated to the Hungarian violinist Joseph Szigeti, a refined and elegant colleague of Bela Bartok's who would bend his lanky statue into every musical phrase, haunting the audience with ghostly sound qualities and compelling rhythmic drive. The interplay of jagged Hungarian rhythms, sudden mood changes and dark sound coloring mark the first movement, Grave. Ysaÿe's Six Sonatas are heavily influenced by Bach's Six Sonatas and Partitas for violin solo of which you will hear the first sonata this evening. Structurally, the first sonatas of both composers show the closest relation - most obvious is the common g-minor tonality.
The reason I chose to open tonight's program with the first movement of Ysaÿe's work comes from my love for unusual programming. Growing up in Europe I was lucky to experience deeply traditional concert planning: The concerts would start with the oldest work first and work their way to the more recently written works at the end of the program. However, if the music director did not want to upset the donors of a concert series, but did need to list at least one contemporary work (due to promises made, favors owed or a lost bet), the audience could find the most "outrageous work" (written within the past 2 years) slammed in the middle right before intermission and followed with Beethoven's 9th symphony - or an equally soul pacifying work. Of course the intentionally extravagant wine selection and smoked salmon canapés served during intermission would slow down the audience just enough to reconsider any harbored intentions of leaving. Personally, I enjoy experiencing something as familiar as Bach's first sonata through a set of fresh eyes, which Ysaÿe grants. This I would like to share with you.
Ysaÿe's Ballade is the third sonata of his op.27 cycle. A Ballade is a musical work written in one movement and of dramatic content. I like to think of Ysaÿe's work to be composed in the tradition of the French poetry form ballade - featuring an introduction and three main sections, each marked by distinctive themes that are unified by a relentless rhythmic ostinato. This rhythmic theme impatiently surge and unfolds into an expansive lyrical melody that flows and yearns through all registers of the violin - only then to return one last time to evolve into an unstoppable wave of harmonic climbs.
The last set of three works - all written between 2000 and 2011 - features a new, contemporary perspective of our global musical heritage: Familiar jazz, blues, and gypsy tunes are adapted for the concert hall and presented in a new light.
I would like to thank composer David Liptak for his kind mentorship, guidance and support on my path into the world of American contemporary music.
Praised by international critics for her "captivating performance" and "sparkling rich'' sound, violinist Anyango Yarbo-Davenport has quickly become a sought after soloist and collaborator. In 2010, Anyango appeared twice at Carnegie Hall, both times receiving 1st Prizes at international competitions. She won the "Most Distinguished Violinist Award" and received the "Special Mention Award as Composer" for her piece In Memoriam of My Father from the 2010 IBLA Foundation World Competition in Italy. Anyango's performances can be heard in concert halls such as the Munich Philharmonic, Carnegie Hall, Detroit Orchestra Hall, and Mozarteum Salzburg - as well as via broadcast by PBS and WXXI. Anyango was awarded the 2011 Presser Music Award for academic and artistic excellence. During the Fall 2012 semester, Anyango is honored to serve as a sabbatical replacement instructor of violin, viola & chamber music at Marshall University.
Highlights of Anyango's 2012/13 concert season include her debut as the new Assistant Concertmaster of Ensemble Du Monde (NYC/Paris) and first violinist of its quartet Quatuor Mahogany. Concert locations include Carnegie's Zankel Hall and an international tour. She was also invited to join the artist roster of the Ritz Chamber Players. As a soloist she has been featured during the national Women in Music Festival Tour presented by the Eastman School of Music & CUNY, has commissioned and premiered several violin concertos, and was a member of the inaugural The Eastmans in Berlin tour hosted by the Kurt Weill Fest Germany.
An avid advocate of contemporary music, Anyango collaborates with composers and conductors such as David Liptak, Chen Yi, Alan Pierson, and Lowell Liebermann. Composer Judith Lang­ Zaimont adapted the violin solo version of Astral for Anyango, which was edited and premiered by her and is now published by Jeanne Inc.
Anyango was born and raised in Munich, Germany as the daughter of African American soprano Africa Yarbo-Davenport and the late Austrian conductor Hans Peter Jillich. She was trained at the music academies of Munich, Germany and began her undergraduate studies at the University of Salzburg 'Mozarteum', Austria. In 2005, Anyango received a full-scholarship from the Eastman School of Music to study in the master class of Charles Castleman. She made her solo debut at Eastman in 2006 with Schnittke's Concerto Grosso No.1. She received the coveted Performer's Certificate with her Bachelor's degree in 2008 from Eastman, where she is currently completing the Doctorate Degree. Prof. Zvi Zeitlin (Eastman) and Ms. Päivyt Meller (Sibelius Academy Finland) belong to Anyango's mentors.
Anyango is Prof. Castleman's Teaching Assistant at Eastman, instructs at Eastman's Community Music School and conducts the Green Strings Ensemble. She is regularly invited to teach solo and chamber music master classes - most recently at Seattle University and the Gettysburg Chamber Music Festival. She is dedicated to the musical education of underprivileged and handicapped children and collaborates with non-profit organizations for equal opportunity.
Anyango currently performs on a violin made by Giovanni Battista Guadagnini, fecit 1785, lent to her by her teacher, Professor Charles Castleman.
For more information about concerts etc. please visit:
Keywords
violin music, arrangements, guest faculty, 20th century
Disciplines
Arts and Humanities | Fine Arts | Music | Music Performance
Recommended Citation
Yarbo-Davenport, Anyango, "Marshall University Music Department Presents a Guest Faculty Recital, Anyango Yarbo-Davenport, violin, An Evening of Music for Solo Violin, 8 p.m." (2012). All Performances. 95.
https://mds.marshall.edu/music_perf/95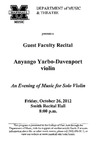 Included in
COinS