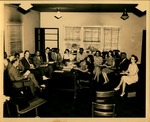 Collection
0434 Owen Clinic Institute Papers, 1948-1975
Institution
Marshall University Archives and Special Collection
Description
A photo of Dr. Thelma V. Owen and colleagues discussing around a table.
This photo was digitized as part of the Honors 480 course in the fall of 2021. This item was digitized by Lauren Gaal.
Subject
Dr. Thelma V. Owen, people with mental disabilities, doctors, patients, mental health, psychology, health, medicine
Usage Rights
Identifier
1986.0434.02.01.02.
Recommended Citation
"Photo of Dr. Owen and Colleagues" (1955). 0434: Owen Clinic Institute Papers, 1948-1975. 1.
https://mds.marshall.edu/owen_clinic_institute/1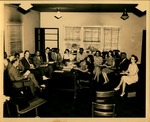 COinS