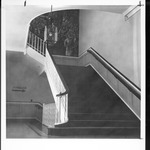 Collection
Parthenon Photo Morgue
Institution
Marshall University Archives and Special Collections
Description
Carpenter mural, stairwell between 1st & 2nd floors, Morrow Library, ca. 1970, b&w. mural was the doctoral project of Dr. Arthur S. Carpenter, Marshall faculty member from 1951 until 1973. Its subject is the growth and development of teacher education. It traces the development of education in W.Va. from the early itinerant teacher in the 12 upper left through the period of rigid discipline in right center to the modern school with its diversified program. Before the remodeling of the 2nd floor of Morrow Library in 2000, it stood in the stairwell from the 1st floor.
Subject
Subject Terms: Libraries Murals Marshall University Morrow Library Carpenter Mural "Development of Education"
People: Carpenter, Arthur S.

Identifier
StP.19860502.01.24.02
Recommended Citation
"Carpenter mural "Development of education," Morrow Library, ca. 1970" (1973). The Parthenon Photo Morgue. 521.
https://mds.marshall.edu/parthenon_photo_morgue/521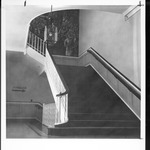 COinS