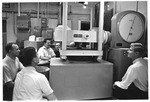 Collection
Parthenon Photo Morgue
Institution
Marshall University Archives and Special Collections
Description
Members of Dr. T. W. Olson's Enginering Class, using stress testing machine, 1968, b&w. Back reads: Members of Asst. Prof. T.W. Olson's Engineering Science class are determining the unit compressive stress of materials, during a lab in the Engineering bldg. The Engineering degree program was dissolved in 1973.
Subject
Subject Terms: Buildings Students Laboratories Marshall University Marshall University Engineering Dept. Slaughterhouse building Old Engineering Building Brumfield Meat Market
People: Olson, Thomas W.

Identifier
StP.19860502.02.44.06
Recommended Citation
Campbell, Bob, "Dr. T. W. Olson's Enginering Class, using stress testing machine, 1968" (1968). The Parthenon Photo Morgue. 738.
https://mds.marshall.edu/parthenon_photo_morgue/738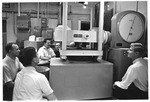 COinS