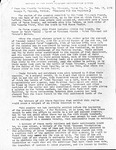 Collection
0092: Point Pleasant Presbyterian Church Records, 1873-1974
Institution
Marshall University Archives and Special Collections
Description
A brief history of Point Pleasant Presbyterian Church in Mason County, West Virginia, detailing events up to 1876.
*Disclaimer: This item contains brief mention of outdated terms. Please be advised that this does not reflect the views of Marshall University Archives and Special Collections.
This item was added online as part of the Honors 480 course, Trash or Treasure: An Introduction to Archives during the fall 2021 semester. This item was digitized and metadata was created by Sydni Pierce.
Place
Mason County, West Virginia; Point Pleasant, West Virginia
Subject
West Virginia, Churches—West Virginia, Presbyterian Church, Presbyterian Church Buildings, Mason County (West Virginia)
Usage Rights
Identifier
1975.0092.01.23.01
Recommended Citation
Marshall University Special Collections, "Brief History of Point Pleasant Presbyterian Church (As Written in 1876)" (1876). 0092: Point Pleasant Presbyterian Church Records, 1873-1974. 1.
https://mds.marshall.edu/point_pleasant_presbyterian_church/1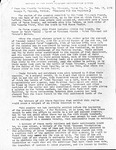 COinS