Preview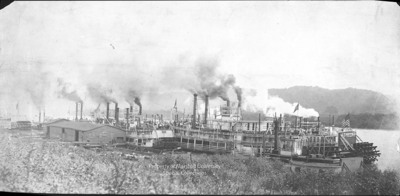 Photo Identifier
1978.01.0236.01.02.09
Description and Location
ca. 1900
Steamboats docked on the Ohio River, ca. 1900, including the J. T. Hatfield, 2nd boat is the Tacoma, small towboat is the Francis.
Tacoma was a sternwheel packet boat built New Richmond, Oh., 1883, destroyed by fire at Cincinnati, 1922.
J.T. Hatfield was a sternwheel towboat built Pt. Pleasant,WV, 1904, sank in 1925.
Francis was probably the Frances, propeller driven towboat built Evansville, IN 1903, burned 1912.
Transportation Category
River (ferryboats, steamboats, towboats, wharfboats)
Media Format
Photographic print copy
Keywords
Steamboats, towboats, Ohio River, J.T. Hatfield, Tacoma, Frances
COinS