Preview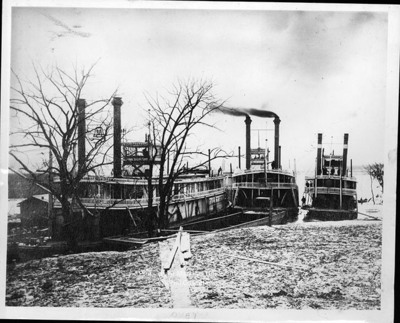 Photo Identifier
1978.01.0236.01.02.07
Description and Location
Steamboats docked during the 1884 flood on Ohio River near Ravenswood, W.Va: the Valley Belle, Minnie Bay, and Harry D. Knox.
The Valley Belle was a sternwheel packet boat built Harmar, Oh., 1883, sank 1943.
The Minnie Bay was a sidewheel boat built Belle Vernon,Pa, completed at Wheeling, 1883, sank 1889.
The Harry D. Knox was a sternwheel boat built Harman,Oh., 1883, and was dismantled 1898.
Transportation Category
River (ferryboats, steamboats, towboats, wharfboats)
Media Format
Photographic print copy
Keywords
steamboats, Ohio River, Valley Bell, Minnie Bay, Harry D. Knox
COinS