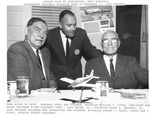 Collection
0577: Rotary Club of Huntington,WV Chapter Records
Institution
Marshall University Archives and Special Collections
Description
Huntington Rotary Club with Aviation week program, Dec 11, 1967, b&w. Caption: right to left: William t. Piper, Pres Piper Aircraft Frank E. Hanshaw, Jr, club program chairman Howard G. Mayes WWI pilot.
Subject
Subject Terms: Huntington, W. Va. Rotary Club Rotary Club of Huntington Rotary International Huntington Rotary Club World War One World War I World War 1 Aviation mechanics (Science)
People: Piper, William T. Hanshaw, Frank Jr. Mayes, Howard G.

Usage Rights
Identifier
1994.01.0577.18.07.02
Recommended Citation
"Huntington Rotary Club with Aviation week program, Dec 11, 1967" (1967). 0577: Rotary Club of Huntington,WV Chapter Records, 1950-1997. 10.
https://mds.marshall.edu/rotary_of_wva_chapter_records/10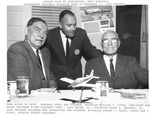 COinS