Preview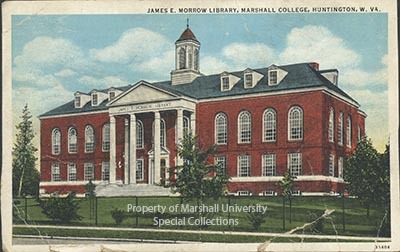 Description
Photo above 1935 view
Photo below 1960 view
Located on Third Avenue on the north side of Huntington campus. Houses special collections of West Virginia, University archives, manuscript collections of local and regional interest, and the Rosanna Blake Library of Confederate History. The Library is also a federal depository for Government Documents. Basement remodeled 1999-2000 for Testing Center, ESL Institute and Biological Sciences. First floor remodeled 2002-2003 for Math Department temporary offices, other College of Science programs; included "Morrow Commons" area.
Named For: James E. Morrow, principal (president) of Marshall College 1871-73.
Construction/Completion Date: 1931, additions in 1967-68.
Keywords
Marshall University Buildings, Morrow Library, Marshall College Buildings, James E. Morrow Library, James E. Morrow, Marshall College Morrow Library, Marshall University Morrow Library
COinS