Preview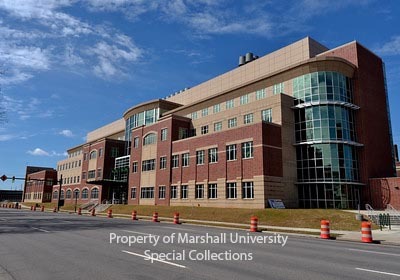 Description
The Arthur Weisberg Family Applied Engineering Complex (AEC), a 152,000 square-foot facility, is located on Third Avenue. It houses six different academic and research programs and The Marshall Institute for Interdisciplinary Research It also houses the offices of the Marshall University Research Corporation (MURC). Laboratory functions include traditional wet bench biological sciences, dry technology development laboratories and applied engineering laboratories such as high-bay advanced materials testing.
The four story facility is organized to promote collaboration between the university's colleges and research corporations. A central four-story atrium serves as a window into the building. The complex's scale and the materials of brick and cast stone are consistent with adjacent campus architecture.
An advanced materials testing lab where full-scale designs of bridges, building and mining-related structures can be evaluated under real-world conditions. This lab has a three-foot concrete floor and adjoining L-shaped wall where the prototypes can be anchored for testing.
The building also is LEED (Leadership in Energy & Environmental Design) certified—a green building program that recognizes best-in-class energy efficient building strategies and practices. In addition to saving the university money on utilities, the sustainable features of the complex will be used as instructional tools. Stormwater collected from the roofs will be used for teaching and research projects and also will be recycled as graywater for some of the building's plumbing.
Named For: Businessman and philanthropist Arthur "Art" Weisberg.
Construction/Completion Date: 2015
Keywords
Marshall University Building, Arthur Weisberg Family Applied Engineering Complex (AEC), Marshall University Research Corporation, Marshall University Engineering Building
COinS