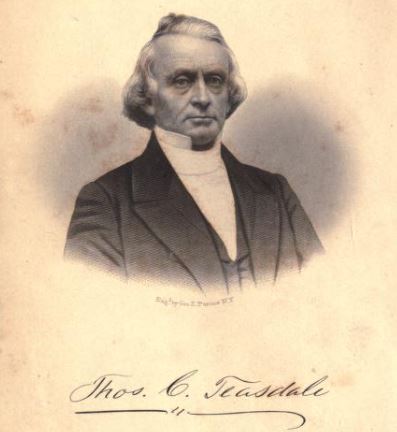 Teasdale was born in New Jersey. He studied at Hamilton Theological and Literary Institution (now
Colgate University
) in Hamilton, New York, but poor health kept him from completing his degree. He began his ministry in Bennington, Vermont (1830-32) and went on to serve in Philadelphia (1832-35); Camden and Newton, New Jersey (1835-40); New Haven, Connecticut (1840-45); Springfield, Illinois (1850-53?); and Washington, D.C. (1853?-). His work in Appalachia included pastoring Grant Street Baptist Church in Pittsburgh (1845-50) and the Thirteenth Street Baptist Church in Columbus, Mississippi, and teaching rhetoric and elocution at East Tennessee University (now the
University of Tennessee
) in Knoxville.
Additional information can be found in Teasdale's Reminiscences and Incidents of a Long Life (St. Louis, MO: National Baptist Publishing Co., 1887).
Printing is not supported at the primary Gallery Thumbnail page. Please first navigate to a specific Image before printing.
Robert H. Ellison

The User Guide for the Library of Appalachian Preaching is a Google Sheet that can be searched, sorted, and downloaded for offline use.

This part of the Guide provides information about Teasdale's discourses and addresses. It includes the title, scripture text, date and place the discourse was delivered (if known), and so on. This information is available in the master list of sermons as well.

Thomas Cox Teasdale

This address, on 2 Corinthians 6:2, was delivered to "Soldiers of the Army of the Confederate States" (p. 1).

Thomas Cox Teasdale

In addition to his pastoral work, Teasdale was a widely-traveled evangelist; he conducted revival services throughout the country, including the Appalachian regions of such states as Alabama, Ohio, Mississippi, and Tennessee. In the Preface, Teasdale writes that "The encouraging spiritual success which has attended" these services "has created a general demand for a volume of his Revival Sermons" (p. 8). He thus published the book in the "hope of aiding some young brethren in the ministry in their efforts to acquire an effective method of preaching…and the desire to animate Christians in their great and responsible work, and conduct sinners to the cross of Christ, that they may be saved" (p. 10).