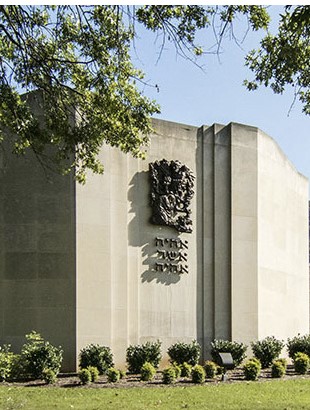 Temple Israel is one of two Jewish congregations in Charleston, West Virginia (the other is
Congregation B'nai Jacob
, led by Rabbi Victor Urecki). According to its website, it was "informally organized" in 1856 and "legally chartered" in 1873, and took up its current location in 1960. A "founding member of the Union for Reform Judaism," it stands as "one of the oldest and most renowned congregations in the American Jewish experience."
Since 2018, the congregation has been led by Rabbi Joe Bair, a Virginia native and graduate of the University of Virginia, the College of William and Mary law school, and the Reconstructionist Rabbinical College in Philadelphia. In addition to his rabbinical duties, he has held various positions with the Gamliel Institute and Jewish Values Online.
More information is available on the Temple's website and Facebook page.. The Library is grateful to Rabbi Joe for agreeing to include his sermons in the project, and to Eric Dillon for cataloging the sermons preached from October 2020 to April 2022.
Printing is not supported at the primary Gallery Thumbnail page. Please first navigate to a specific Image before printing.
Robert H. Ellison

The User Guide for the Library of Appalachian Preaching is a Google Sheet that can be searched, sorted, and downloaded for offline use.

This part of the Guide provides information about sermons preached at Temple Israel from October 2020 through April 2022. It includes the title, Torah portion/scripture text, the time stamp at which the sermon begins, and so on. This information is available in the master list of sermons as well.

Temple Israel

Temple Israel's Facebook page has videos of services dating as far back as October 2017. Information about sermons preached between October 2020 and April 2022 is available in the User Guide.