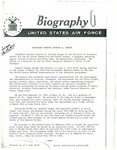 Collection
0455: Brigadier General Chuck Yeager Collection, 1923-1987
Institution
Marshall University Archives and Special Collections
Description
Air Force Biography of Brigadier General Charles E. Yeager created in 1973, only two years before he retired. Provides two pages of biographical information with another two pages of personal facts, and one page of promotion dates.
Subject
Biography, Aviation, Bell X-1 (Supersonic plane)
Usage Rights
Special collections material is obtained from many sources and is intended primarily for research and educational purposes. Certain works may be protected by copyright, trademark, or related interests not governed by the department. It is up to the researcher to verify that they have permission to use these materials for publication or other activities.
Recommended Citation
"U.S. Air Force Biography 1973" (1973). 0455: Brigadier General Chuck Yeager Collection, 1923-1987. 114.
https://mds.marshall.edu/yeager/114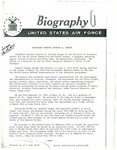 COinS