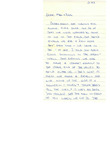 Collection
0455: Brigadier General Chuck Yeager Collection, 1923-1987
Institution
Marshall University Archives and Special Collections
Description
Letter from Don Yeager to the Yeager Family in which he describes an extended stay out in the field which included difficult night humps and long periods of mortaring. He also says that most combats are "small skirmishes, not large battles" and that the "papers blow it all up."
Place
United States and the Vietnam War, Cổ Loa (Vietnam), Vietnam--Cổ Loa
Subject
Vietnam War, 1961-1975
Usage Rights
Special collections material is obtained from many sources and is intended primarily for research and educational purposes. Certain works may be protected by copyright, trademark, or related interests not governed by the department. It is up to the researcher to verify that they have permission to use these materials for publication or other activities.
Identifier
1987.01.0455.57.02.69
Recommended Citation
Yeager, Don, "October 3rd Letter from Don Yeager to Yeager Family" (2023). 0455: Brigadier General Chuck Yeager Collection, 1923-1987. 209.
https://mds.marshall.edu/yeager/209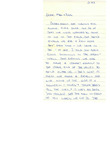 COinS