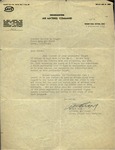 Collection
0455: Brigadier General Chuck Yeager Collection, 1923-1987
Institution
Marshall University Archives and Special Collections
Description
The first entry is a letter to Captain Yeager regarding a test flight of the XS-1 only a month before the model was used to brake the sound barrier. In this first letter, Colonel Albert Boyd requires explanation of why Captain Yeager exceeded authorized speeds. The second letter contains Captain Yeager's response in which he explains that safety is his primary concern. The letters are dated September 3rd, 1947 and September 9th, 1947.
Place
Wright Field (Ohio), Ohio--Wright Field
Subject
Correspondence, Airplanes--Flight testing,
Usage Rights
Special collections material is obtained from many sources and is intended primarily for research and educational purposes. Certain works may be protected by copyright, trademark, or related interests not governed by the department. It is up to the researcher to verify that they have permission to use these materials for publication or other activities.
Identifier
1987.01.0455.14.12.01
Recommended Citation
"Letter from Albert Boyd Regarding September 1947 XS-1 Flight and Response" (1947). 0455: Brigadier General Chuck Yeager Collection, 1923-1987. 87.
https://mds.marshall.edu/yeager/87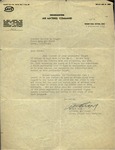 COinS