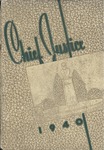 Title
Files
Download opening - Campus Photos, pages 1-16 (5.3 MB)
Download Faculty, pages 17-26 (1.8 MB)
Download Senior Class, pages 27-52 (3.7 MB)
Download Junior Class, pages 53-62 (1.8 MB)
Download Sophomore Class, pages 63-76 (2.2 MB)
Download Freshmen Class, pages 77-88 (2.6 MB)
Download Organizations - Student Government & Student Councils - Independents, pages 89-97 (1.9 MB)
Download Organizations - Sororities, pages 98-109 (2.4 MB)
Download Organizations - Fraternities, pages 110-141 (6.7 MB)
Download Organizations - Clubs - Parthenon, pages 142-151 (2.5 MB)
Download Organizations - Music - Theatre, pages 152-157 (1.4 MB)
Download The Chief Justice - Chamber of Commerce, pages 158-164 (1.5 MB)
Download Athletics, pages 165-182 (4.3 MB)
Download Campus Life, pages 183-198 (3.0 MB)
Download Marshall Mirror, pages 199-205 (973 KB)
Download Advertisers, pages 206-208 (391 KB)
Description
In 1933 the Miribilia ceased publication during the Great Depression when money was scarce.
After an absence of seven years the yearbook is superseded in 1940 by THE CHIEF JUSTICE titled in honor of John Marshall, one of the most famous of the Chief Justices of the Supreme Court and for whom the college was named when it was established in 1837.
Publisher
John S. Swift Co., Inc.
Recommended Citation
Marshall College, "The Chief Justice, 1940" (1940). Marshall Yearbooks. 23.
https://mds.marshall.edu/yearbooks/23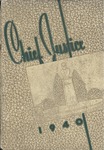 Included in
COinS