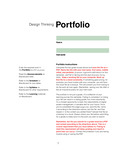 Description
The Design Thinking Portfolio engages students in the design thinking process through problem-based and collaborative learning. The portfolio project starts with compiling things that students wish were better, then having them work across the spectrum of design thinking to sell their ideas though team pitches. Students use a design thinking mindset to solve a regional social or civic issue as social entrepreneurs. Coming together and sharing their own diverse backgrounds forces students to think outside of their own views to create an open and innovative solution. The portfolio project introduces several professional tools needed for finding the right problem in order to compile many solutions based on research, empathy maps, interviews, observations, identifying users and stakeholders, considering constraints, user needs, producing customer journey maps, creating prototypes and developing pitches to obtain the best solution. This portfolio will not only walk students through the process, but also serve as an artifact of their abilities to apply design thinking in revaluating complex problems.
Publication Date
8-20-2021
Publisher
Marshall University Libraries
Keywords
Design Thinking, Portfolio Project
Disciplines
Communication | Communication Technology and New Media | Mass Communication | Social and Behavioral Sciences
Recommended Citation
Ingersoll, Chris. Design Thinking Portfolio. Marshall University Libraries, 2021.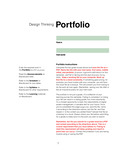 COinS