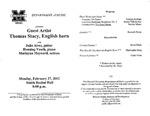 Publication Date
2-27-2012
Note(s)
Julio Alves, guitar
Henning Vauth, piano
Marlayna Maynard, actress
Grammy nominee Thomas Stacy, the vaunted solo English hornist of the New York Philharmonic, continues an active performance schedule since leaving the Orchestra. During his 39 seasons there he was soloist over 70 times, with all recent music directors and several guest conductors, in concert performances in America, Asia and at numerous European music festivals, including the London Proms.
Mr. Stacy has been profiled on CBS Sunday Morning, where he was compared to Segovia as a pioneer soloist, and on NPR's All Things Considered. He was soloist twice with the Philharmonic on Live from Lincoln Center. He has also appeared as soloist with the Mormon Tabernacle Choir on Music and the Spoken Word.
Stacy's artistry is responsible for the largest expansion of English horn repertory in history. Several of his world premieres, including concerti by Rorem, Persichetti and Hodkinson (a work for electrified English horn) were with the New York Philharmonic.
He is the most recorded English hornist in the world. In addition to his Grammy nomination for Best Instrumental Solo Performance with Orchestra, recorded with the London Symphony Orchestra, his recording of concerti for oboe d'amore with the Toronto Chamber Orchestra made the Billboard Charts.
He has appeared as guest soloist with many American and European orchestras, including the Gewandhaus Orchestra in Leipzig; he has presented master classes around the globe. In August the 34th annual Stacy English Horn Seminar will be held in Carmel Valley, CA.
Stacy was recently recognized as a Distinguished Arkansan; he grew up in Augusta, AR, population 3000. In junior high school he sold his motorcycle in order to purchase an English horn. He graduated from the Eastman School of Music With Distinction, and received the George Eastman Scholarship, presented by the faculty for distinguished achievement in an areas of study. For more information on Mr. Stacy please visit www.thomasstacy.com
Keywords
recitals, English horn, arrangements
Disciplines
Arts and Humanities | Fine Arts | Music | Music Performance
Recommended Citation
Alves, Júlio Ribeiro; Vauth, Henning; and Maynard, Marlayna, "Marshall University Music Department Presents a Guest Artist, Thomas Stacy, English Horn" (2012). All Performances. 274.
https://mds.marshall.edu/music_perf/274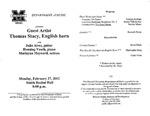 Included in
COinS